In The News
---
A Recap of Industrial Activity
June 2023 - The industrial sector has seen a softening of demand recently, as occupiers move into a more normalized flow of goods after the surge seen during the pandemic. Activity is expected to continue at a strong pace, however. According to the IL Real Estate Journal, the rise in e-commerce and related distribution has kept industrial leasing and investment at a solid pace. This activity is driven in part by companies that are restructuring their supply chain operations to prepare for the future. And, companies are increasing the onshoring of goods in the U.S., which has helped support warehouse occupancy.

There are headwinds in this sector, however, as some large tenants slow their leasing activity. Amazon, for example, has undertaken a second round of leasing contraction after taking on a significant amount of space during the pandemic. And, capital markets deal-making has been stalled in many markets, as investors navigate the higher interest rate environment.
---
Chicago's Office Market Declines in Q1 2023
April 2023 - Chicago's office market has experienced significant decline over the past year, as work-from home policies have shifted many workers away from the office. Property owners are facing high vacancy rates as companies try various approaches to entice workers back to the office. According to Connect Media, the Chicago office market saw continued decline in Q1 2023, with direct vacancy rates increasing by 110 basis points to reach 19.7% and the amount of sublease space reaching new highs. Net absorption totaled negative 781,453 square feet, according to Transwestern research.

One bright spot is the Fulton Market District, which is attracting tenants with its trendy new buildings and top-tier amenities. Much of that growth has come from tenants moving from other Chicago office submarkets, including the Central Loop.
---
Industrial Sublease Space Increases
February 2023 - Industrial occupiers turned back a significant amount of space in 2022, according to this Bisnow story, which notes details from Colliers. The total square footage of industrial sublease space grew by nearly 46% in spaces larger than 200,000 square feet. Amazon, a top driver of the industrial boom in recent years, put 30 million square feet of warehouse space on the sublease market. This involved closing several facilities in 2022 and postponing some new openings. While Amazon is a prominent factor in the growing sublease segments, Colliers noted that the manufacturing sector added the most industrial space to the sublease market over the past year.
---
Tax Bills Due Date Delayed
January 2023 - The due date for first installment property tax bills is usually March 1. This year, the due date for the first installment 2022 tax bills has been deferred to Monday, April 3, 2023. The extra month is meant to give taxpayers a bit of breathing room after the delay in the 2021 second installment bills which were just due last week.

The first installment tax is always 55% of the prior year's total tax. The bills will be mailed approximately 1 month prior to the due date.
---
A Look at Last Year's CRE Gains and Losses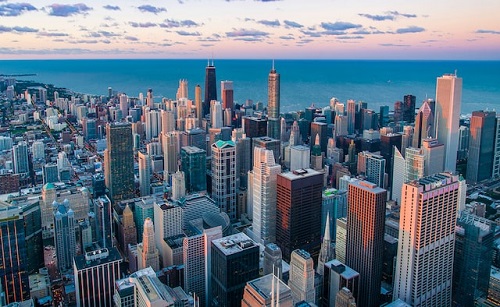 January 2023 - Chicago's commercial real estate market saw many changes in 2022, from the sale of major buildings to several corporate relocations out of the city. Among the key events highlighted this Bisnow story are:
Google purchasing the iconic James R. Thompson Center for $105 million, bringing a renewed sense of hope for the Loop building.
A city initiative to transform aging and mostly vacant office buildings into new multifamily units.
The promise of hundreds of highly paid new jobs and millions in economic activity from a new Bally's casino development in River West.
There was also much uncertainty, however, as the downtown office market experience a significant increase in vacancy and major corporations announced plans to leave the city.